Chamber Connection by  Meredith Caddell
April 14th by Meredith Caddell
Congratulations Grocery Supply Company for winning the 27th Annual Chamber Golf Tournament!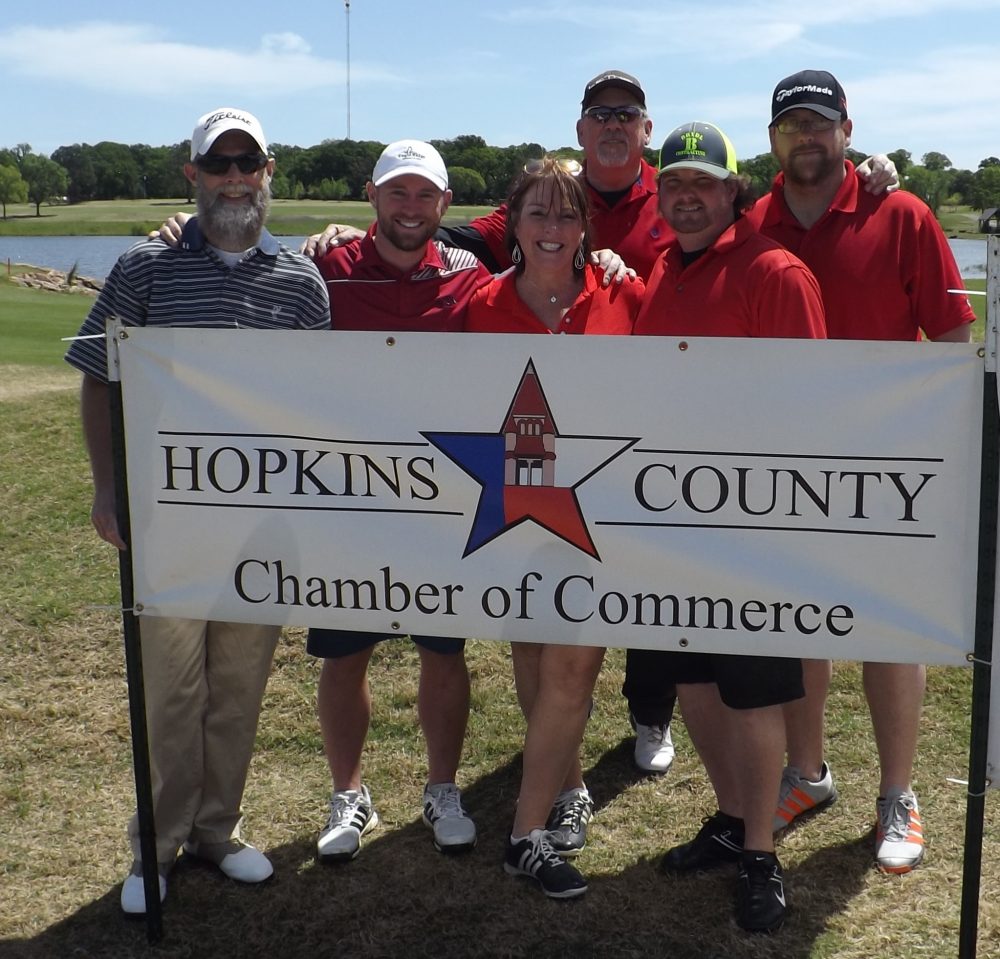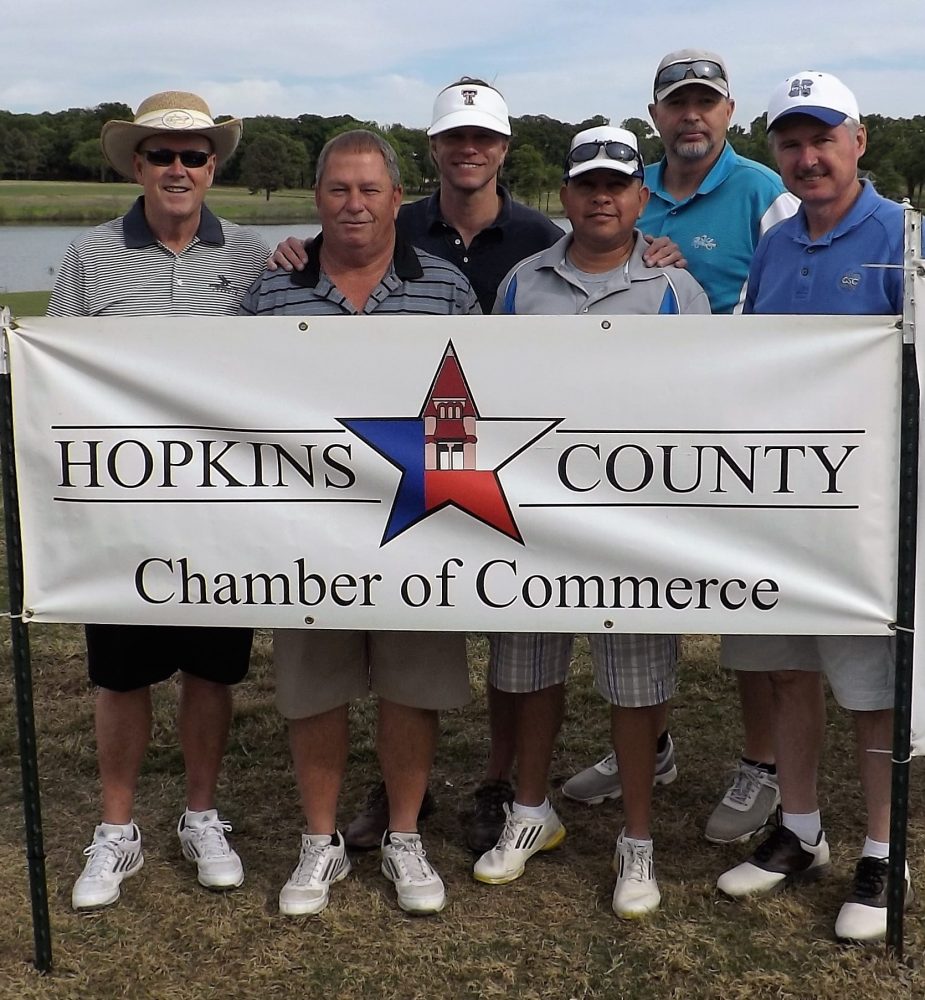 We had a fabulous day at the Sulphur Springs Country Club last Friday!  The weather was Perfect, the course was beautiful and the golfing was superb!  Grocery Supply Company did something that no other team has done in the past…not only did they win the low gross with a score of 49, but they also won low net with a score of 42!  For prize purposes the GSC team of Ryan McKenzie, Kerry Law, Bobby Brown, Patrick Blanchard, Billy Escobar and Chad Bolton, received the top prize for low gross of dinner for 2 at the fantastic 511 Chophouse at the Country Club.  
The team from Fatland Trucking, Casey Fatland, Chip Gifford, Terry Harbin, Blake Birchfield, Tracey Fatland and Michael Diffey scored a low net of 44.3, which earned them each a $100 Credit at Hidden Lakes Hunting Resort!
2nd Place low gross went to CNB & Morris Custom Homes: Robert Langhoff, Sput McCormack, Lance Looney, Brad Morris, Don Sapaugh and Tony Bettes.  
2nd place low net went to the team from The Way Radio: Moose Morgan, Mitch Griggs, Chad Griggs, David Perry, Aaron Hanna & Jeff Griggs.
3rd place low gross went to the team from Reaux & Double U Properties: Dallas Peters, Mark Schaefer, Judson Weaver, Chase Johnson, Blaine Moore and Brannon Tucker.  
3rd place low net was awarded to the team from Century 21 First Group: Craig English, Blake Johnson, Brian Burney, Mike Jumper, Adam Brooks and Mark Blount.  
Other winners for the day were:
Closest to the Line #3: Ryan McKenzie
Longest Putt #5: Cody Wells
Longest Drive-Men #11: Judson Weaver
Closest to the Hole #12-Mike Diffie
Longest Drive-Women #14-Neva Mohesky
Closest to the Hole #18-Chase Johnson
A very special thank you to the staff at the Sulphur Springs Country Club for a fabulous day.  Also, thank you to all of the Board of Directors, Ambassadors and other volunteers that made the 27th Annual Golf Tournament a huge success!  
Thank you to everyone who attended the ribbon cutting for Dragon Ranch!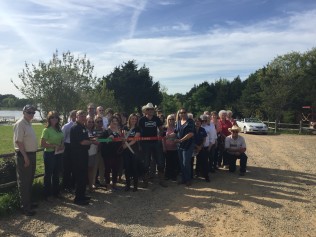 Dragon Ranch is a unique gem which, after many years, is now available for private stays in country guest houses as well as events – from corporate retreats to ladies' spa days or guys' nights out to family reunions or weddings. The ranch is a preserve for nature features fish stocked ponds and lakes, modern art sculptures throughout the property, miles of hiking trails through woods, resident animals including Zig and Zag the zebras, and one of a kind architecture made of reclaimed materials.
Dragon Ranch is located just minutes off I30 between Greenville and Sulphur Springs TX, and only 1 hour from downtown Dallas.  
Thank you to everyone who attended the Ribbon Cutting for Chanler Salons!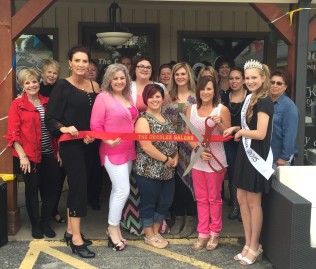 Renee Chanler welcomed everyone to their beautiful, innovative new gallery of mini-salon suites, located at 468 Shannon Road.  Guests were treated to a fabulous spread of delicious food and beverages!  Each stylist has her own suite, so they can focus on just YOU!  They provide spa, beauty and personal care!  Come see one of their stylists…Renee Chanler, Mindy Bentley, Shelly Vittitow, Kory Dunnett, Misty Carr & Cami Williams  For more information or to schedule an appointment please call 903-885-3025.
2nd Annual Tennis Tournament & Fundraiser for CANHelp, Saturday, April 16th
Don't miss this opportunity for a day of family fun.  The 2nd Annual Play It Forward Tennis Tournament and fundraiser benefitting CANHelp.  Proceeds from this even will allow CANHelp to continue to provide important services to the residents of Hopkins County in times of need.  The even will be Saturday, April 16th at the Sulphur Springs High School Tennis Courts.  All ages welcome along will all tennis skill levels.  It will be round robin style doubles play.  Guaranteed 3 matches & event t-shrit.  They will also have a silent auction and concessions! Check in begins at 8:30 and you may pick up entry forms at CANHelp or register at www.canhelponline.org.
Women's Strength Training & Nutrition Workshop, Saturday April 16th from 9:30-12:30
This workshop is for females of all ages and fitness levels to connect in a small group setting to discuss the benefits of strength/cardio training, body image, confidence building & nutrition.   Women may also participate in a 45-minute body weight training session that includes a dynamic warm-up, modifications for anyone new to working out, cool down and breathing drills.  Then, enjoy a post-workout recover shake & snack to refuel your body.  There is a chance to win great prizes.  The cost is only $20!  This event will take place at Head to Toe Nutrition on the square at 101 Gilmer Street with Karen Sears hosting the workshop!  You may drop off payment and register at 24 Hour Gym Fitness.  Attendance is limited, so don't delay!
Sulphur Springs Airport Civil Air Patrol Open House & Free Flights for kids 8-17-April 16th
The Sulphur Springs Airport Civil Air Patrol will host an open house Saturday, April 16th from 8am-Noon.  They will have hands-on aerospace activities for children, aerospace rocketry displays, hovercraft demonstrations, flight simulator, search & rescue operations, fire education trailer, helicopter static display, aircraft static display, communications, and lunch!  The will offer free flights as well.  
John Chester Dutch Oven Cooking Class, Saturday, April 16th from 8am-2pm
Learn all the In's and Out's of cooking with Dutch Ovens.  Prepare & Enjoy while you learn!  Great lunch and door prizes included!  For more information contact Rick Wilson, 903-885-9692 or 903-335-2752 or Carlie Penson 903-383-2648 or 903-348-2239. Cost is only $15 per person @ 416 Jackson Street at Heritage Park!
Reilly Springs Jamboree presents Jack's Western Swing Round Up, April 16th at 7pm & After Hours!
You don't want to miss this great evening of entertainment at the Reilly Springs Jamboree, Saturday, April 16th at 7pm.  Jack Phillips, along with Caroline Grace Wiseman, Abby Payne and Devon Dawson will be sure to provide a wonderful evening of Western Swing!  We will host a Business After Hours at 6:30 with food and door prizes.  We encourage everyone to stay for the show at 7pm.  Admission is only $10.  For more information, please call Enola gay at 903-438-3568.
Exclusive Invitation for Ladies Day Out at Bon Worth, April 16th & 17th beginning at 8am.
Bon Worth is hosting a Ladies Day Out April 16th & 17 starting at 8am.  Buy one, get one 20% off select merchandise and All apparel over $20 is now $19.99!  So don't miss it! Bon Worth is located in the VF Outlet Mall.
Ribbon Cutting for Snap Fitness, Wednesday, April 20th at Noon
We will host the ribbon cutting for the fabulous new Snap Fitness, Wednesday, April 20th at Noon.  Stop by on your lunch break to check it out!  To celebrate its grand opening, the club is offering a pre-opening special with free enrollment for new members, 10% off of monthly dues for six months, ½ price club access cards, and a free "Snap Fitness" t-shirt.  This promotion is valid through April 30, 2016.
Club Owner, Wes Armstrong, said, "Snap Fitness will be a game-changer for the community as a whole. "Exercise is vital to good health, and our club is designed to help members transform their lives. Being lifelong residents of Hopkins County and raising our families here, our hometown is important to us and we want to make a difference in our community," Armstrong said, "We are ready to open our doors and get started."
According to Co-Owner, Toby Armstrong, the 10,000 square foot club includes: 24/7 access, monthly agreements with no long term contracts, high-quality Cybex  equipment, state of the art 12 minute tanning beds, personal trainers, group fitness classes in a 1200 sq foot air conditioned room….classes include Zumba, Yoga, HIIT, Cardio Kick, and Active Senior (with additional classes being added), free weights, treadmills and ellipticals with individual televisions, showers, lockers, and a children's seating area with a big screen television.  "We hope you will stop in and check out our beautiful new facility and all it has to offer," Toby added.  Snap Fitness is located at 400 Gilmer in SS.   For more information about Snap Fitness–Sulphur Springs and its special offers, please call 903-848-6100.
Miller Grove will host the ribbon cutting & ground breaking for the Elementary School Addition, 4/21
Please join us for the ribbon cutting for Miller Grove's Elementary School Addition, Thursday, April 21st at Noon.
Poster Contest for all 5th Grade Students in Hopkins County
Deputy Kelly Wiser with the D.A.R. E. program invites all 5th graders in Hopkins County to participate in the Poster Contest, April 23rd!  Topics for the posters may include illegal drugs, tobacco, alcohol, bullying, peer pressure, and/or prescription meds.  All posters must be on poster board and students may use any resources on the poster.  Entries must be submitted by April 23rd at 10:00am at the Sheriff's office, 298 Rosemont Street.  Awards for the best overall posters.  They will also have a free hot do lunch for students.  For questions, please contact Deputy Kelly Wiser at 903-438-4040 or [email protected].
"Investing in Our Future" SSISD Education Foundation Expo, Wednesday, April 27th from 11:30-1:00
Registration Deadline for the Education Foundation Expo is Monday April 18th.  The event is a wonderful opportunity to hear about the plans for the Sulphur Springs Independent School District.  Tickets are only $15.  To reserve a seat, please call 903-885-2153 x1101 or email [email protected].  The event will take place at the Civic Center.
Claws for a Cause Crawfish Boil, Saturday, April 30th on Main Street
Don't miss the 3rd Annual Claws for a Cause Crawfish Boil, hosted by the Sulphur Springs Rotary Club.  The event will be Saturday April 30th beginning at 5:30pm on Main Street.  All you can eat crawfish & fixins until it's gone!  Live Music from the Zydeco Stingrays.  Tickets are available online on FB: Claws for a Cause for $25 in advance and $30 the day of the event.
Twogether in Texas Marriage Education Workshop
The next session will be held on Saturday, May 21, from 8:30 a.m. to approximately 3:30 p.m. at the Hopkins County Extension Office.  The workshop is free and engaged couples will receive a certificate to save $60 upon applying for a marriage license.  Topics covered will be marriage expectations, communication, conflict resolution, money management, and goals & dreams.  Lunch and refreshments will be provided by local businesses.  Please call 903-885-3443 to reserve seats.
We would like to welcome our newest members to the Chamber of Commerce:
Freddie Taylor & Associates
614 Bill Bradford Rd.                                      
Sulphur Springs, TX  75482
Freddie Taylor
903-348-9623
Consultant & City Council
Snap Fitness
400 Gilmer Street
Sulphur Springs, TX 75482
Erica Armstrong
903-848-6100
Fitness Center
Chris & Missy McClure
703 Texas Street
Sulphur Springs, TX 75482
806-681-7768
Real Estate
Merle Norman Cosmetics & Boutique
212 Davis Street North
Sulphur Springs, TX 75482
Gay Bailey
That's all for now…have a GREAT week!