2016 RFL "Paint the Town Purple" is May 13
Amber Henry, Event Lead for Hopkins County Relay for Life, is inviting everyone to get involved now in this year's "Superheroes" event. It will be held from 7pm Friday May 13 til 7am Saturday May 14 on the downtown Celebration Plaza in Sulphur Springs. Also on the schedule is the Survivors Dinner on April 23 at 6pm at League Street Church of Christ for cancer survivors, their family members and caregivers. There is also a "Rush for the Cure" 5K Run planned for April 30, join at raceentry.com or at Fieldhouse Sports. For more information, contact Amber at [email protected], phone or text to 903-271-1475, or see facebook.com/rflhopkinscotx or www.relayforlife.org.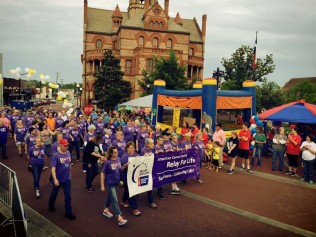 Creating a world with less cancer takes a team effort. It takes survivors and caregivers, and a community to unite at Relay for Life. This year, nearly 4 million people nationwide will come together to celebrate, remember and fight back. Form a team, camp out, have fun and show that this is a community that will help the American Cancer Society to create a world with less cancer and more birthdays. Join Relay for Life!