Hopkins County will receive $2,098,103.80 from the Federal Emergency Management Agency (FEMA) to assist with county road repair. Each precinct will share in this according to the specific damage from flooding and storm damage that occurred in May, 2015, according to Hopkins County Judge Robert Newsom and the four county commissioners who spoke during a news conference at the Courthouse Monday morning at 9 a.m. following their weekly court meeting.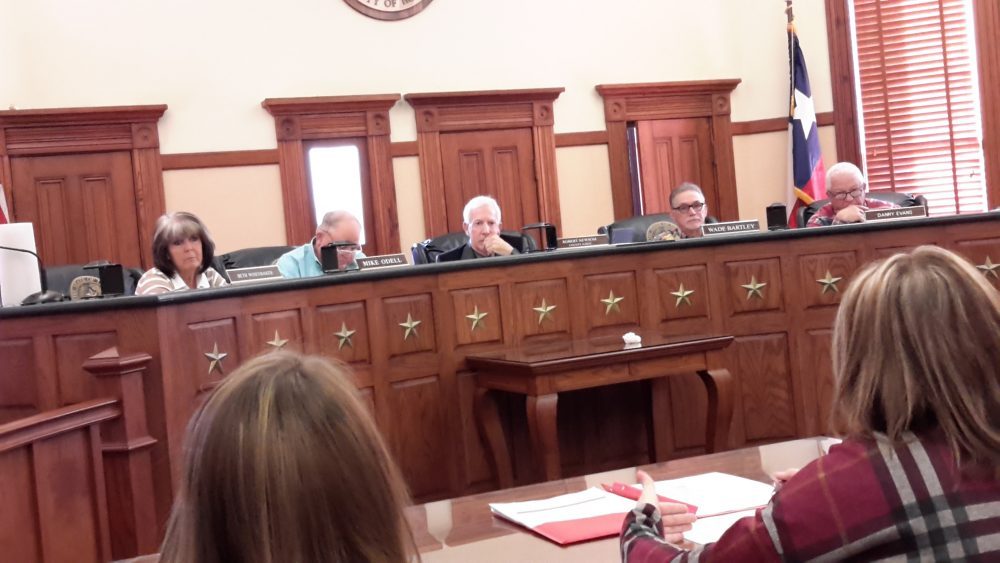 The County has sought the money from FEMA since the May 2015 storms that produced heavy rainfall and flooding that damaged a number of roads. Newsom said the commissioners had worked together with FEMA representatives to qualify for the provided funds. Newsom praised commissioners for their work on local roads and their commitment to utilizing funds available in a prudent manner.
Precincts 1 and 2 sustained the greatest damage and will receive the greater amount. Precinct 1 will receive $859,014.28 with Precinct 2 receiving $767,702.05. Precinct 3 will receive $235,847.00 and Precinct 4, $235,541.47.
Commissioner Precinct 1, Beth Wisenbaker said this one a time when FEMA stepped up to assist with disaster relief. She pointed out that funds for each precinct represented a 75-25 percent split. The FEMA funds represent 75% of the money that will be spent on road repair and the precinct will provide 25%. The 25% provided by the county can utilize manpower and hours worked as specific funds used. She called the work with FEMA challenging, yet pleasant. She thanked the FEMA crew for seeing the road damage through the eyes of the local commissioner and residents. Wisenbaker asked that everyone remember each commissioner has only a six man crew to do the work and that the work must be performed within the GPS coordinates that FEMA has established as the section of road funded. Wisenbaker asks that everyone know that the GPS coordinates will make much of the work look like patchwork. This is mandated by FEMA.
"This is not going to fix every road in Precinct 2," said Mike O'Dell, commissioner. He stated that he had taken FEMA down some roads that they said they would not fund to repair. "Theydo not fix potholes," according to O'Dell. He said a lot of oil mix and gravel have washed away that the county will not get back. He asked for patience as he seeks to repair the roadways.
Wade Bartley, Commissioner Precinct 3, said this will give relief to the annual budget of each precinct and that he and crews are awaiting good weather to repair the roads.  He stated that it takes $60,000 to $70,000 to repair a mile of county road, so the funds received will not go far but it will help.
Commissioner Precinct 4 Danny Evans said everything helps when you are operating on a tight budget. Evans said the rainfall amounts should have been considered when looking at pothole damage on County Roads. Evans stated that 50-60 percent of the work needed in his precinct had been performed. Money that he will receive will go back into his budget with the exception of the few areas remaining to be repaired.
Evans may have much of his work but for other commissioners there is still much to do. Funding was need in Precincts 1 and 2 due to the great amount of damage in the south section of the county. For Precinct 3, some work has been completed but much awaits, according to Bartley.
Judge Newsom pointed out that a number of area counties did not seek the FEMA funding due to the amount of paperwork. However, Newsom pointed out that local commissioners worked hard to achieve the funding. He stated that now the county will begin again as they seek FEMA funds for the December 26 and 27, 2015 storm damage. All new paperwork and all new meetings are now underway, although the funds that will be received this go-round will be less than the current amount received.