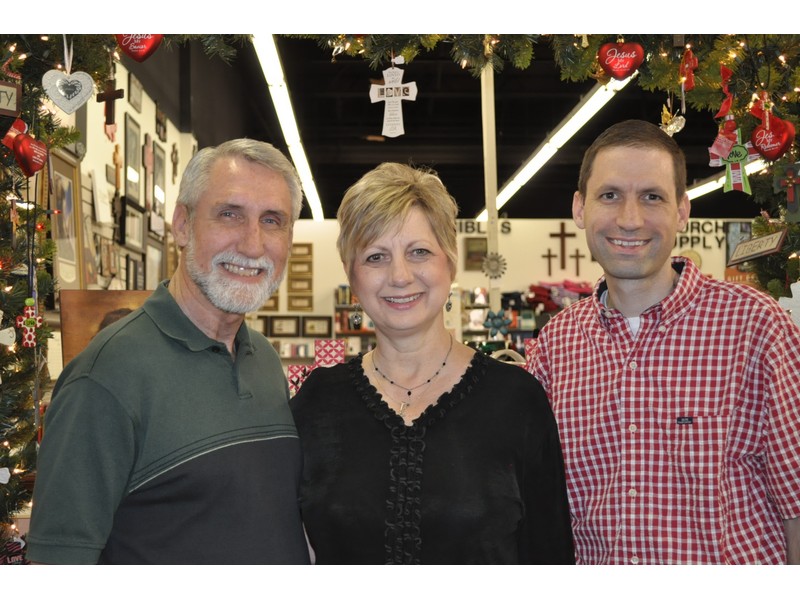 In 1974 Thee Christian Bookstore, originally known as Words of Life Bookstore, was opened by Harlan Harred, Mark Miller, and Bill Watts at 319 Main Street. The three were Christian businessmen who saw the need for a Christian bookstore in the city of Sulphur Springs and began pulling their money together to make it happen. The store was nonprofit and the men had one paid employee, their store manager, Bobbie Galligher. In 1976, Gena Jordan became one of many volunteers the bookstore had, along with her future husband, Garry Jordan. In the early stages of the store Garry had helped install the wall paneling in the original store and Gena was a store clerk.
In 1990, Garry and Gena, along with their three children: Jeremy age 12, Joshua age 8, and Laura age 5, bought the existing Thee Christian Bookstore. The Jordan's explained that the Lord put it on their heart to buy the bookstore and provided the financial means, so the family did. On the sign of the bookstore, below the name of their store, the scripture "Distributing to the necessity of the saints," Romans 12:13 is present, a scripture God provided to the Jordan's before they even realized they would be owners of a Christian bookstore.
In 1994, the bookstore was moved to Windsor Plaza Shopping Center on Gilmer Street. In October of 2003, the shopping center suffered a fire and their section of the building received extensive smoke and structural damage. In spite of the setback, the Jordan's moved their smoke damaged product into a large sales tent in the parking lot while the building was being torn down. They remained in that tent for 8 months and in August of 2004, they moved back into their rebuilt building. Soon after, Good News! Bookstore in Mount Pleasant, Texas spoke with the family about purchasing their store. After praying heavily on the issue, the Jordan's purchased Good News! in September of 2004. They then changed the name of Thee Christian Bookstore to Good News! and kept both the Mount Pleasant and Sulphur Springs locations. In 2010, they closed their Mount Pleasant location and in 2011 they combined inventory from both stores and moved into a 6,000 sq. ft. building in the Factory Stores of America Mall in Sulphur Springs.
The Jordan's have been in business for almost 26 years and are still currently located in the Factory Stores of America Mall in Sulphur Springs. They have a wide variety of books, bibles, home décor and Christian music. Good News! can be contacted at 903-885-6946, goodnewsrom.com, [email protected], or found on Facebook at Good News! Christian Bookstore.