Varisty Basketball by Justin Brock and Brenden Lynn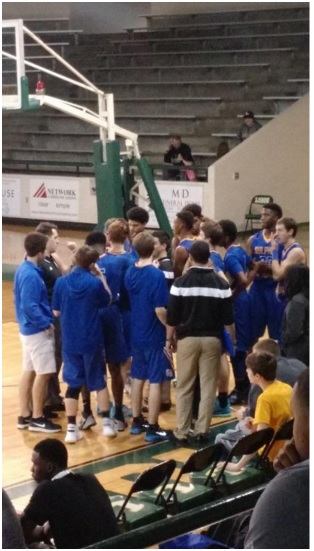 "To make Varsity, you must be a player who's invested in the game of basketball.  A player who will go the extra mile to be better and to make the team better," Coach Cipoletta adds.  Coach Cipoletta, or as everyone else calls Coach Cip, is the head boys and Varsity coach at Sulphur Springs High School (SSHS). Coach Cip likes for his players to pay attention to details.  "In order to be a good basketball player you have to work hard and earn it. We need kids willing to put in time during the summer to improve their game. This is the only way we, as Sulphur Springs, can be very good," says Coach Cip.
There are many different players who make up the Varsity team this year.  It consists a total of 15 players this year (list of names below).  Keaston Willis, who's the only freshman on Varsity, is youngest player, and he's averaging the most points per game on the team with 17.4.  "Having this freshman on the team is a good addition knowing that most of my players are seniors and are leaving after this year," Coach Cip adds.  Trenton Brock, Cain Cody, Garret Jones, Matthew Malone, Derrick Weeks, Keylon Hall, and Zach Haywood are the seniors that'll be leaving after this year.
Injuries are some of the hardest things Coach Cip has to deal with this year, so far.  Cain Cody and Simeon Taylor are two of the players who started last year but both out for the season with injuries. Simeon, only being a sophomore, has two more years at SSSHS, but as for Cain, he's going to be leaving SSHS after this year, due to him being a senior and having a foot injury.  Knowing that he'll be out for the year, Coach Cip says, "Cain has been our biggest lost this year.  He has been the defensive MVP of our district 2 years in a row."  Hopefully he'll be back in time for the next athletic event, which is baseball or track and field, so we can use his skill and potential in order to win games.
So far this year, the Wildcats are 10-15.  "Our hardest opponent that we played this year so far has been Mount Pleasant, and we lost 63-53. They have the size we don't and guards to go along with it.  We played them well, but in the end, their size killed us on the boards..," says Coach Cip.  Our district is tough and they are hard to play against (district schedule on page 2).  Coach Cip thinks we'll make it to the playoffs if we play the way we know how, and finish our season with a positive record.
"My expectations for this team is that I want them to reach their full potential.  I don't focus on loss and win record.  I worry about making out guys as good as they can be and the winning will take care of its self," Coach Cip replies.  All Coach Cip is trying to accomplish this year is to make it to the playoffs.  "After this year I think that the players would learn how to be good teams and how to handle adversity.  All I'm trying to teach them this year is most importantly that the team is the most important.  Without it, you won't have much."  Coach Cip might be one of the best Varsity basketball coaches that Sulphur Springs, Texas has ever seen.  Hopefully he'll use his skills to teach, not just the basketball players, but every other student that enrolls into SSISD.
| | | | |
| --- | --- | --- | --- |
| # | Name | Class | Height |
| 1 | Ke'Ontae Dunn | Junior | 5'10 |
| 2 | Keaston Willis | Freshman | 6'1 |
| 3 | Mason Buck | Junior | 6'1 |
| 5 | Keylon Hall | Senior | 6'3 |
| 10 | Matthew Malone | Senior | 6'0 |
| 11 | Bryson Lynn | Sophomore | 5'10 |
| 12 | Zach Haywood | Senior | 5'9 |
| 14 | Dane Rutherford | Junior | 6'1 |
| 21 | Trenton Brock | Senior | 6'2 |
| 22 | Michael Arnold | Junior | 6'0 |
| 23 | Garrett Jones | Senior | 6'1 |
| 24 | Iverson Wade | Sophomore | 6'3 |
| 30 | Cain Cody | Senior | 6'3 |
| 32 | Tyrese Pryor | Sophomore | 6'2 |
| 33 | Derrick Weeks | Senior | 6'3 |
Varsity Basketball Players (2015-2016)