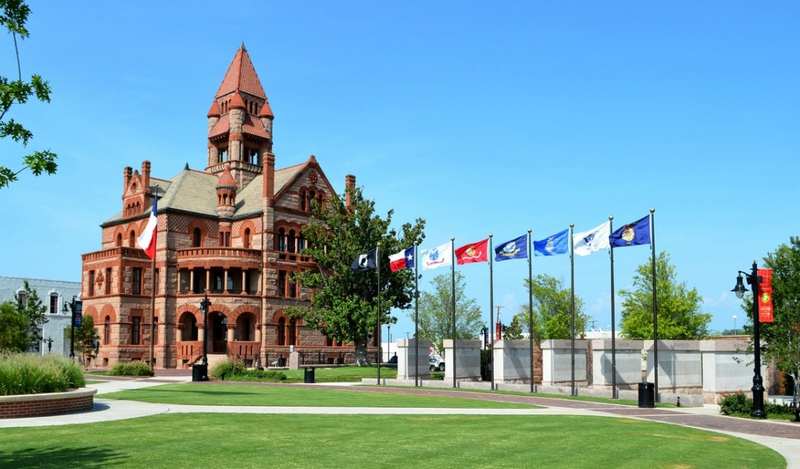 As Hopkins County officials conclude their agreement with the Federal Emergency Management Agency (FEMA) regarding the Presidential Disaster Declaration made last May, the President has once again declared Hopkins County a disaster county following the December 26-27, 2015 floods that did major damage to roads and bridges in the county.
According to County Judge Robert Newsom, the final agreement regarding the May, 2015 disaster that did major damage to roads and bridges is about two weeks away from completion. Commissioner Beth Wisenbaker, tasked with the responsibility of representing all precincts in the county to FEMA, "Until I put my signature on the contracts, I'm not sure how long it will be before this ends." Wisenbaker also stated that final dollar amounts for the May disaster are basically set but could change before signing day.
However, now with the most recent disaster declaration, the county will begin the process again. FEMA representatives have already begun the tour of areas affected by the December disaster. Wisenbaker states there are yet roads for FEMA to drive as they assess the damage. In fact, according to a previous story reported by KSST News, some of the December damage was done to areas where the May damage had already been repaired. Wisenbaker states that FEMA representatives are beginning to realize that how roads are built in Hopkins County is different from road construction elsewhere.
Older roads in Hopkins County have no stabilization base and that base is difficult to establish. Wisenbaker stated that when roads were first built the dirt from the ditch was used to form the base. Crude oil was mixed with that dirt as well and laid over the base. She stated that even with current methods, the rebuilding of roads in the county is difficult. She stated that using oil sand, the rebuilding of a road in Hopkins County costs $72,000 per mile. Other methods are more expensive. She said that obtaining crude oil is also currently difficult. With oil prices low, most oil companies are "…leaving it in the ground," she said.
Yet, there remains the exact placement of repairs under the disaster. The areas to be repaired are marked with GPS coordinates and those specific areas are the focus of the repair and reimbursement system. Wisenbaker stated that when repairs to roads and bridges are performed the county pays for the work and then turns in the receipts to FEMA.
FEMA'S PRESS RELEASE REGARDING THE PRESIDENT'S DECLARATION:
WASHINGTON, D.C.  – The U.S. Department of Homeland Security's Federal Emergency Management Agency announced that federal disaster aid has been made available to the State of Texas to supplement state and local recovery efforts in the area affected by severe winter storms, tornadoes, straight-line winds, and flooding during the period of December 26, 2015 to January 21, 2016.
The President's action makes federal funding available to state and local governments and certain private nonprofit organizations on a cost-sharing basis for emergency work and the repair or replacement of facilities damaged by severe winter storms, tornadoes, straight-line winds, and flooding in Bailey, Castro, Childress, Cochran, Dallas, Deaf Smith, Dickens, Ellis, Hall, Hardeman, Harrison, Henderson, Hopkins, Kaufman, Kent, King, Lamb, Lubbock, Navarro, Parmer, Rains, Red River, Rockwall, Titus, and Van Zandt counties.
Federal funding is also available on a cost-sharing basis for hazard mitigation measures statewide.
Kevin L. Hannes has been named as the Federal Coordinating Officer for federal recovery operations in the affected area. Hannes said additional designations may be made at a later date if requested by the state and warranted by the results of further damage assessments.
Following is a summary of key federal disaster aid programs that can be made available as needed and warranted under President Obama's disaster declaration issued for the State of Texas.
Assistance for the State and Affected Local Governments Can Include as Required:
Payment of not less than 75 percent of the eligible costs for debris removal and emergency protective measures taken to save lives and protect property and public health.  Emergency protective measures assistance is available to state and eligible local governments on a cost-sharing basis (Source: FEMA funded, state administered.)
Payment of not less than 75 percent of the eligible costs for repairing or replacing damaged public facilities, such as roads, bridges, utilities, buildings, schools, recreational areas, and similar publicly owned property, as well as certain private non-profit organizations engaged in community service activities. (Source: FEMA funded, state administered.)
Payment of not more than 75 percent of the approved costs for hazard mitigation projects undertaken by state and local governments to prevent or reduce long-term risk to life and property from natural or technological disasters.  (Source: FEMA funded, state administered.)
How to Apply for Assistance:
Application procedures for state and local governments will be explained at a series of federal/state applicant briefings with locations to be announced in the affected area by recovery officials. Approved public repair projects are paid through the state from funding provided by FEMA and other participating federal agencies.
FEMA's mission is to support our citizens and first responders and ensure that as a nation we work together to build, sustain, and improve our capability to prepare for, protect against, respond to, recover from, and mitigate all hazards.