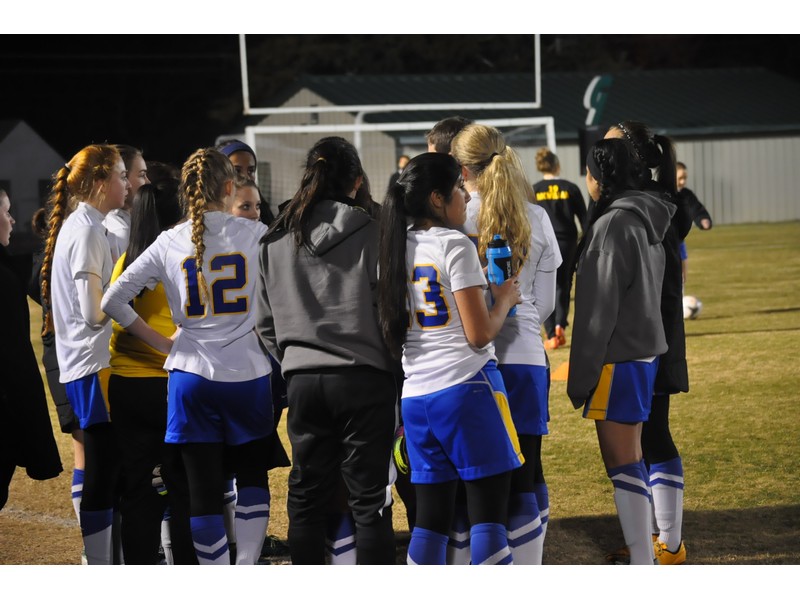 The Lady Cats Soccer Team had an off night on the road Tuesday night losing at Mt. Pleasant, 2-0. Lady Cats Soccer Coach Jesus DeLeon said the last time they played, the Lady Cats won but he said it wasn't a comfortable win. He added they exposed some Lady Cats weaknesses even in defeat. Coach DeLeon said he thought those weaknesses had been corrected.
Coach DeLeon said he tried to tell his team this rematch would be difficult. He said recently Mt. Pleasant had been playing very well taking strong teams Hallsville and Texas High into overtime before losing. Coach DeLeon said a couple things hurt the Lady Cats Tuesday night. He said the wetness and the wind had more impact on the style of the Lady Cats. The Lady Cats play a possession style game that depends on station to station passing to move the ball down the field. Coach DeLeon said Mt. Pleasant plays a more direct style that features playing long balls in toward the goal. A couple of those long passes resulted in Lady Tigers' goals as they got behind the Lady Cats' defense. Coach DeLeon added several of his players were not feeling 100%.
The Lady Cats now play Pine Tree next at Gerald Prim Stadium Friday night at 7 p.m. The Lady Cats defeated them on the road when the teams played back on February 2. The Lady Cats are now 5-3-1 in district play and 14-4-1 for the season.