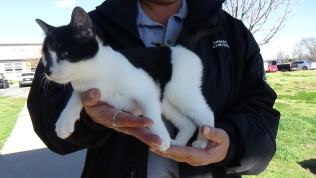 Tia is a short-haired domestic cat approaching three months old. She was found with her sister Tamara on Clayton Rd February 10. Both have lived together until recently when Tamara was adopted Thursday, February 18.
"We had a phone call on Clayton Road," Animal Shelter Officer Barbi Blanch said. "The man was allergic and somebody had dumped a bunch of kittens on him, so we went out and they both came running up to us. They were raised by somebody, because wild cats don't just come up to you."
The two kittens were named after the characters of an old TV show called "Sister Sister." Tia is a playful and loving kitten, and since her sister was adopted, she has wanted more attention from people.
"She's all by herself now and has nobody to play with, but she has a ball," Officer Blanch said. "When we're cleaning, we'll leave her in an empty cage for a couple of hours with toys and she'll have a ball playing and wearing herself out."
Tia is also playful with other animals. She has played with dogs and cats alike, and she continues to seek attention from others who visit the Shelter.
"We actually had her out with a dog earlier and the dog ran from her," Officer Blanch said. "She tried to kneed his forehead. She sat there making kitten biscuits on his face."
Both Tia and her sister Tamara are blind in one eye. Tia has not been taken to a veterinarian clinic, so Shelter officers are unable to determine if the blindness is a result of injury of if she was born with it.
"Tamara had a mark on her eye, but it looked like it was clearing up," Officer Barbi said. "As for Tia, it doesn't seem to be bothering her. She gets around really good."
There will be no off site adoption this weekend, but the Shelter will be open from 11 a.m. to 4 p.m.