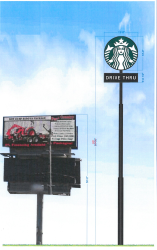 Tuesday, the Sulphur Springs Zoning Board of Adjustments and Appeals will meet Tuesday at 5:30 p.m. in the council chambers at City Hall. The board will discuss and take action on a variance for signage at 1320 South Broadway and at 1111 West Industrial Drive. The two items are hold overs from the December meeting that didn't happen due to lack of a quorum. Last week, during the January City Council meeting, the council appointed a new member and two alternates to the board to assist in having a quorum for meetings.
The property owners at 1320 South Broadway, N3 Realty in Southlake, are seeking a variance to the city sign ordinance. They are wanting a sign 85 ft high. The city sign ordinance allows signs to be only 24 feet high. City staff is in favor of the variance.
The ZBA board does not just provide recommendations to the city council but actually has the power to make decisions.