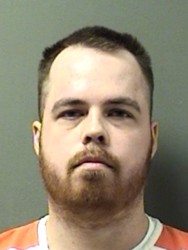 Monday morning in 8th Judicial District Court, Assistant District Attorney Clay Harrison began calling the first of an expected 40 witnesses for the prosecution in a trial expected to take four days. Stanton Wayne Yates, 30, is being tried for five counts of organized criminal activity.
With a map of Hopkins County predominantly placed facing the 12-member jury panel, Harrison had witnesses place a sticker at the location of their home that had been burglarized or the location that they had observed a burglary. Stickers began covering several segments of the county. Identifying tools used in the burglaries was also a feature as Hopkins County Sheriff's Deputies were called upon to testify. One witness identified specific items of value and greater sentimental value that had been taken from his home in the North Hopkins/Birthright area.
Yates is one of two Hunt County brothers who were found in Collin County jail for burglary of a habitation. At the time of their arrest, Hopkins County Sheriff's officers thought seven burglaries that were under investigation at that time would be cleared.
Yates brother, Perry Jeff Yates, pled guilty to burglary and has been sentenced to 20 years in the state penitentiary. Perry Jeff Yates is expected to be a witness in the current trial.