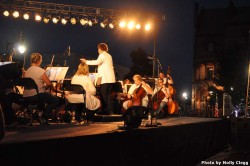 Sharla Campbell and Adam Whitson were appointed to the Sulphur Springs Symphony League Board of Directors during the first meeting of the League in 2016.  Both Campbell and Whitson volunteered with the Symphony League during the annual auction.  New officers for 2016 are President Linda Galligher, Vice President Maleta Reynolds, Treasurer Carol Bridges, and Secretary Kayla Price.
The Symphony League is a non-profit organization that produces the annual Independence Day Celebration on Celebration Plaza, the annual Children's Concert for all 3rd, 4th and 5th graders in Hopkins County, sponsors and coordinates the Dallas Opera2Go performance at the SS Middle School, offers an annual scholarship to a SSHS graduating senior, and provides various other forms of support for the SSISD music program.  The Sulphur Springs Symphony League is the volunteer organization that operates the Northeast Texas Symphony Orchestra, which is a group of professional musicians.
This year marks the 25th year of the Symphony, the Independence Day Celebration, and the annual auction.
For more information on the League or to become a member, visit www.sulphurpspringssymphonyleague.org or friend them on Facebook for current events.