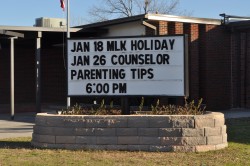 The counselors of Sulphur Springs Independent School District will be hosting their second informative parent session this school year on Tuesday, January 26, 2016 at 6:00 p.m. in the SSES cafeteria. The guest speakers for this specific event are Ginger Brooks, Licensed Professional Counselor and Dr. Todd Connor, MD. This specific session is titled Top Tips for Raising Toddlers to Teens and will provide information on the social\emotional needs of a child, behavior, homework habits and test anxiety.
A meal will be provided prior to the presentation at 5:30 p.m. Childcare will be provided from 5:45-7:15.
The third and final session of this school year will be on Thursday, April 7, 2016 in the SSHS cafeteria.