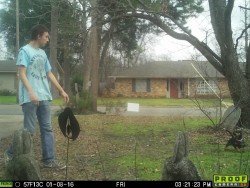 Hopkins County Sheriff's Office Investigators believe they have discovered two subjects connected to a recent scam in Sulphur Springs. According to Chief Criminal Investigator Lewis Tatum, two white males in their mid-twenties approached the home of an elderly Sulphur Springs woman and informed her that they were there to replace the fire hydrant on her property. The false claims made by the suspects were indicated an intention to extort money from the victim.
Names of the suspects have not been released as investigators are preparing to present information to the District Attorney's office to obtain arrest warrants. Tatum encourages Sulphur Springs citizens to be alert and he says there are two things you must do when you find yourself in a similar situation.
Number one: Never grant the individuals access into your home.
Number two: Immediately notify either the Hopkins County Sheriff's Office or the Sulphur Springs Police Department.