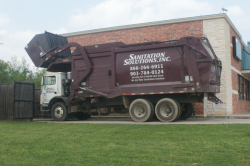 Sanitations Solutions, the new trash service for Sulphur Springs, made their first commercial pickups Saturday and will begin residential service today (Monday, January 4, 2016). According to City Manager Marc Maxwell there has been and will be no interruption in garbage collection as Sanitation Solutions begins their service to the city.
Days set for residential trash collection will not change according to Maxwell. If the resident's trash has been picked up on Monday and Thursday or the Tuesday Friday schedule, those days remain the same. Maxwell reminds residential customers to have their trash curbside by 7 a.m. on the day of their scheduled pickup. The usual time of pick up may change. The contract calls for trash to be placed in bags and no more than six bags be placed curbside on collection day. Maxwell said that if trash exceeds limits, it may or may not be picked up during the next two weeks. He reminds customers that they may take excess trash to the landfill once a month. To use the landfill for free one must present their water bill.
This is the first change in trash service companies in 20 years. Sanitation Solutions, the new service company, will keep the expense the at the same rate for the city.