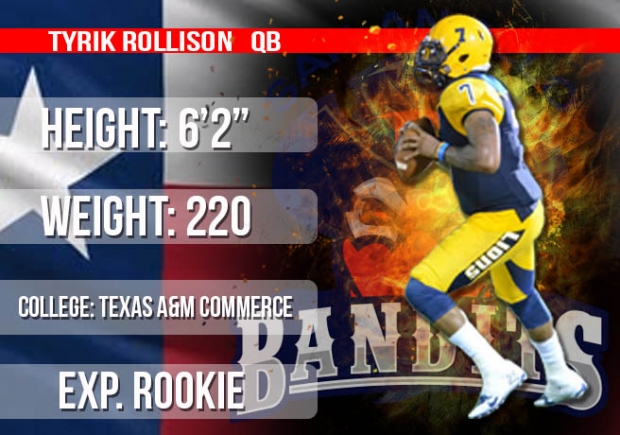 Tyrik Rollison, the record holding former Sulphur Springs High School quarterback who led the Wildcats to the Texas High School Class 4-A Division II state championship in 2008, has signed a contract with the San Angelo Bandits of the Champions Indoor Football League.
"We're excited to bring in a quarterback like Tyrik," said General Manager and Head Coach Meadow Lemon. "He's got all the physical tools to play in this league and has led teams to winning seasons everywhere he's been. We look forward to seeing what he can do in a Bandits uniform."
Rollison, 6'2", 225 lbs, was the No. 11 quarterback prospect in the nation coming out of his career at Sulphur Springs high school. He red-shirted at Auburn University in 2009 before a stint at Tyler Junior College led him to finishing his collegiate career at Texas A&M University-Commerce, where he threw for 12 touchdown passes in only six games as a junior. He caught the attention of the nation as a senior when he opened the season with 546 yards and six touchdowns in a 98-20 win over East Texas Baptist University. Rollison went on to throw for 33 touchdown passes while leading the Lions to a 9-3 overall record and a Heart of Dallas Bowl victory.
The Bandits play in the Southern Division of the Champions Indoor Football League (CIF) along with teams from Mesquite, Allen, and Amarillo, Texas as well as the Duke City Gladiators out of Albuquerque, New Mexico and Dodge City Law in Dodge City Kansas. Fans will have a chance to see Rollison in action close to home as the Bandits face off with the Texas Revolution at the Allen Events Center in Plano, Texas on April 15, 2016.
2016 season and single game tickets are now available on the official website for the San Angelo Bandits. Visit www.sabandits.com for more information about the Bandits and the CIF league.