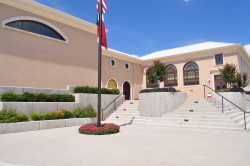 Sulphur Springs City Council will consider a proposal that Tesla Motors representatives have already stated would be advantageous to both the city and Tesla vehicle owners. A charging station for Tesla vehicles to be built along Tomlinson Street in Sulphur Springs would be the only charging station between Rockwall and Hot Springs, Arkansas, according to City Manager Marc Maxwell.
The location of the eight space charging center was first questioned by Tesla because it was 1.2 miles from the interstate but after reviewing the downtown area; they said their owners would spend the 45 minutes needed for recharging to visit shops and restaurants in the area. Tesla representatives stated that their drivers do have apprehensions when they leave the interstate but stated that the downtown area here would cause those apprehensions to diminish. Tesla will pay for the station and all costs involved in recharging the vehicles.
City Manager Marc Maxwell states that those who drive Tesla are often decision makers and have disposable income. He hopes that they will not only visit downtown merchants and restaurants but will also consider the city a place for expansion of their business.