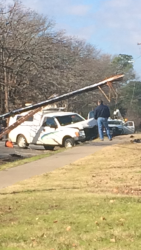 A Thursday morning accident on Lee Street affected electrical service to 134 customers of ONCOR including the Sulphur Springs Elementary School. A vehicle struck a power pole creating the outage. Power should be restored at approximately 12:40 p.m. Thursday.
For Sulphur Springs Elementary School, electrical service and phone lines into the school were affected. Parents were asked to message teachers or call 903-885-2153, extension 1107 if there were any questions regarding their child.
In an earlier story, the street name was erroneously reported to KSST.