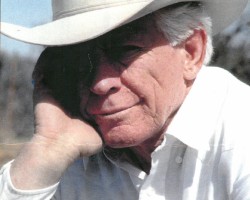 Funeral services for Mel Panter, age 88 of Sulphur Springs, will be held at 11:00 a.m. on Wednesday, January 13, 2016 at League Street Church of Christ.  Interment will follow at Restlawn Memorial Park with his sons and grandsons serving as pallbearers.  Visitation will be held one hour prior to the service at the church.
Mel passed away on Saturday, January 9, 2016 at Trinity Mother Frances in Tyler.  Melvin Thomas Panter was born on September 17, 1927 in Albion, OK, the son of Boss and Elma (Wall) Panter.  Mel married Merle Tolbert on May 26, 1948 in Van Buren, Arkansas.  She preceded him in death in August of 2014.  Mel served in the Air Force.  He was a member of League Street Church of Christ serving as an elder.  He was a member of the Choctaw Indian Tribe.  His passion and past time was oil painting.
Survivors include his sons, Gary Panter and wife Helene of Brooklyn, NY and Tommy Panter and wife, Gwen of Sulphur Springs; daughter, Linda Panter of Sulphur Springs; grandchildren, Caleb Panter and wife, Addi; Adam Panter and wife, Jenni, Luke Panter and wife, Janae, Andrew Panter and Olive Panter; great-grandchildren, Bennett Panter, Beau Panter, Penny Panter, Charli Panter, Griffin Panter and Boss Panter.
He is preceded in death by his parents, wife and one brother, Jacky Panter.