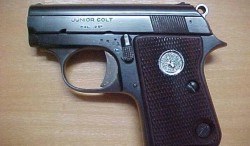 A man licensed to carry a concealed handgun shot himself in the foot Wednesday night in the Family Life Center at Davis Street Baptist Church. The man was taken to Hopkins County Memorial Hospital, treated and released.
He was carrying the small handgun (.25, size similar to picture) in his pocket. When he reached into his pocket to remove his keys, the keys caught in the trigger of the handgun and discharged the weapon. No one, other than the man was injured.
Sulphur Springs Chief of Police Jay Sanders advises those who carry a small concealed handgun in their pocket or purse to keep the weapon holstered in a cloth carrier that will protect against this type of accidental firing of the weapon.