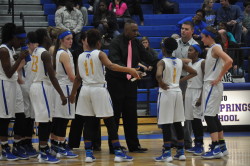 It had to be one of the most incredible Lady Cats' basketball games of all time Tuesday night in Wildcats Gym. An instant classic. The Lady Cats defeated the Longview Lady Lobos, 62-58 in triple overtime.
The Lady Cats almost won in regulation but a late turnover and a Lady Lobos basket tied the game 44-44 in regulation. Both teams matched points in the first and second overtime. Finally scoring seven of their nine points from the foul line, the Lady Cats were able to come out on top.
Tori Moore came up big in the overtimes scoring ten of her 15 points in the three extra sessions. She hit two of four three point shots. Kaylee Jefferson led the Lady Cats with 19 points and Autumn Tanton scored 9.
The win puts the Lady Cats all by themselves in second place with a 6-2 record. Hallsville is alone on top with a 7-1 mark. The Lady Cats will travel to Marshall Friday night. The Lady Cats defeated the Lady Mavs, 50-13 in Wildcats Gym back in December. The Lady Cats are now 19-6 for the season.