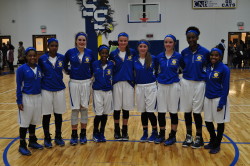 The Lady Cats' basketball team improved their district record to 3-1 and their season mark to 16-5 with a dominating win over Mt. Pleasant, 63-34 on the road Tuesday night.
Tori Moore was on fire shooting behind the three-point arc hitting five of six as part of her team leading 17 points. Kaylee Jefferson scored 11 points and had a team leading nine rebounds.
The Lady Cats got off to a great start as they jumped out to a 21-3 first quarter lead. They led 36-14 at the half and 56-27 after three quarters.
The Lady Cats host the Greenville Lady Lions Friday at 7 p.m. in Wildcats Gym.