[Editor's note: KSST thanks Don Julian for his diligence as News Director. We are happy that he will continue as Sports Director. He files the following report.]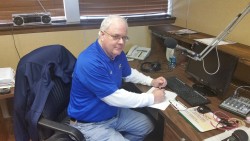 Here is my list of the top twenty stories of 2015.
#20. The Sulphur Springs ISD Auditorium renovation project seems to be moving at a snail's pace. It also proved to be more expensive than first thought.
#19. The city of Sulphur Springs begins a large pavilion project at the site of the old city swimming pool. Lots of people are helping to make it possible.
#18. The city of Sulphur Springs lands two grants worth $900,000 to construct walking paths that will tie Coleman Park to Buford Park and for sidewalks from Buford Park to downtown.
#17. A state and national group visit Sulphur Springs in April to see what the city has done downtown. Visiting are the state Main Street Association and the National Congress for New Urbanism.
#16. A popular football player and band member, Isaac Perez, drowns in a pond during an outing with some classmates in late April. Sulphur Springs High School and the community mourn the death.
#15. The stew must go on despite heavy rains. Many stew cooks insist on cooking and a good crowd shows up despite lots of mud.
#14. Longtime Hopkins County incumbents, Sheriff Butch Adams and Precinct 1 County Commissioner Beth Wisenbaker, say they won't seek another term. Four hopefuls file in each race in the GOP Primary.
#13. Sulphur Springs singer and songwriter Hannah Kirby competes on NBC's The Voice. She makes the final 8 before bowing out in late April.
#12. Hopkins County Memorial Hospital signs an affiliation agreement with UT Northeast in Tyler for a family practice residency program. The program may start here as soon as 2016.
#11. Murder. Justin Joe McQueen is arrested for the shooting death of Jesse Vasquez on October 11. Michael Anthony Garcia is also arrested for shooting at McQueen.
#10. Best selling author E.L. James, who penned the Shades of Gray trilogy, chooses Sulphur Springs along with New York, as cities where she offers signing events for her latest book in the series, Gray. People line up around the block to get into the Bookworm Box on June 20.
#9. The Roy Dean Duffey murder trial finally wraps up as Duffey gets 20 years in prison for the February 2011 stabbing death of David Harrison Cooper. Duffey is appealing the verdict.
#8. Former Hopkins County Sheriff's investigator Daniel Winn is sentenced to 15 months in jail for tampering with evidence as drugs are taken from the Sheriff's Office evidence room last year.
#7. CHRISTUS Health is selected as a prospect for partnership with Hopkins County Memorial Hospital. Both hope to have an agreement by the end of March.
#6. Concerns by the Center for Medicare and Medicaid Services' surveyors threaten Hopkins County Memorial Hospital's Medicare and Medicaid status. The hospital hires a consultant to see them through a Systems Improvement Agreement to correct problems.
#5. Murder and a manhunt. 20-year old Tilton Joshua Isaiah Mapps of Greenville is arrested in Fort Smith, Arkansas in late September for the June 8 shooting death of 26-year old Johnathan Young in Pacific Park. Mapps girlfriend is also arrested in Arkansas.
#4. Capital murder suspects 27-year old Cody Scott Shaw of Emory and 31-year old Patrick Wayne McMahan both agree to plea bargains that allow Hopkins County to avoid expensive capital murder and death penalty trials in 2016. Shaw was sentenced to life in prison without parole and McMahan to life in prison.
#3. 34-year old Tony Chance Ross of Sulphur Springs dies in a Tyler hospital on March 8 after being arrested and incarcerated in the Hopkins County Jail. He was tased numerous times. Police Chief Jay Sanders says no department policy was violated. Ross' autopsy report is made public. A grand jury exonerates policemen and jailers involved. The family has filed a liability claim against the city.
#2. Rain, rain, rain, rain. One of the wettest years on record. This year's drought breaker was the first wet year since 2009. Cooper Lake filled up April 24. The rain total would have higher except for subpar rain months from June through September.
#1. The new state of the art Hopkins County Jail is completed and inmates move in December 7. Administrative staff, using old desks and chairs, began moving Thanksgiving day. An open house on December 1 offers guided tours and draws a large crowd.
And that's my list of top stories for 2015. I'm Don Julian.