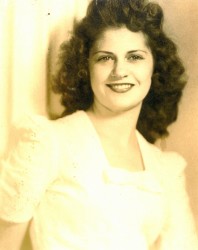 Private Services were held for Doris Cromer Wardrup, age 90, formerly of Sulphur Springs, who passed away on Wednesday, January 6, 2016, at Greenhill Villa in Mt Pleasant.
She was born on December 22, 1925 to Morris James Cromer and Etha Arnold Taylor.  She graduated from Sulphur Springs High School on May 28, 1943 and married Wayne Lewis Wardrup on June 6, 1944.
She is survived by her daughter, Linda Taylor of Saltillo and a grandson, Cory Len Applewhite of Austin.