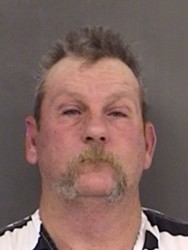 Hopkins County Deputies responded to a call to a residence on County Road 4591 and found a male lying in the ditch. He had been stabbed. When officers arrived at the residence, a female stated that the suspect in the stabbing was inside the house. The back door on the house had been broken.
Gary Dale Hawkins, 54, stated that he and his stepson had gotten into an argument, began fighting and he stabbed his stepson. The stepson was transported to Hopkin County Memorial Hospital for medical treatment. Hawkins was arrested for aggravated assault with a deadly weapon and transported to Hopkins County jail.
Justice of the Peace B. J. Teer set his bond at $50,000.