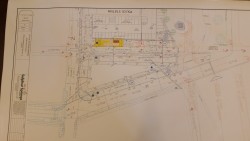 A space that is currently used for parking but not designated for parking, at the corner of Davis and Main Streets, is the proposed site for additional downtown parking. On the busiest of days the lot usually contains 44 to 47 vehicles but with the planned parking some 74 vehicles will be parked there. The proposal will be presented to the Sulphur Springs City Council Tuesday night during their January session. City Manager Marc Maxwell said an additional 30 spaces will be added.
Maxwell stated that no parking structure will be placed at the location due to cost. He said it costs 12-times as much to build a structure as it does to provide street level parking. The spaces will be placed on both sides of Tomlinson Street as well as along Main and Davis Streets. An area of parking along Tomlinson Street that is currently used for police parking will be incorporated into public parking.
The proposed parking area also includes eight (8) parking spaces that will include recharging stations for Tesla vehicles. The city will lay conduit and build the pad for the charging station. This will add little cost to the parking proposal according to Maxwell.