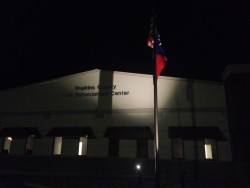 All 124 inmates in either the old county jail or in the Franklin County Jail were moved to the new Hopkins County Jail Monday evening. County Judge Robert Newsom stated verbal approval and later written approval was given Monday afternoon for the county to occupy the new facility. Texas Jail Standards Commission allowed the move after they received pictures of the inmate-visitor communication devices installed in the building.
Sheriff Butch Adams and staff began the move of inmates from the old facility to the new building following the evening meal. Twenty-eight Hopkins County inmates were moved from Franklin County. The move of county inmates from the neighboring county jail will stop the $40 per inmate monthly drain on the local county budget. Judge Newsom said the county saved almost $1200 Tuesday thanks to the move.
Newsom commended Sheriff Adams and Chief Jailer Kevin Lester. Lester worked late Saturday assuring the installation of the inmate-visitor phone system. All furniture for offices and magistrates courtroom should be completed by weeks end.
Newsom said everything must be removed from the old facility this week. Demolition is scheduled to begin next Monday. Today, the kitchen equipment in the old building may become the property of the Lamar County organization that prepares meals for certain Hopkins County residents that are served by an agreement that replaced NETO.