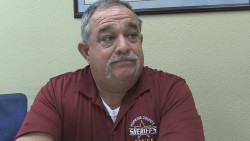 One of the latest scams local lawmen are learning about sounds like a terroristic threat or even extortion. Hopkins County Sheriff's Chief Criminal Investigator Lewis Tatum said this scam is working both city and county.
An employee of a local bank was contacted and told that a contract had been placed for their termination. The caller offered to forget the contract and to give the individual the name of the one who had placed the contract on them if the threatened individual would pay. Tatum said this is just one of the scams operative at this time.
The website fraudaid.com lists the various scams that are being run, not just here but across the nation. Sulphur Springs Police Criminal Investigator David Gilmore said that most of the scams that are being perpetrated by phone are from foreign nations.