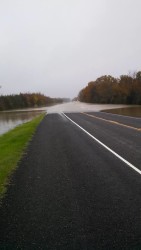 With flooding across a number of Farm-to-Market and county roads reported at midday Monday, the National Weather Service has once again extended the Flood Warning. This extension is until 7:15 p.m. Monday. Motorists are advised to turn around where water covers and/or is flowing over the roadway.
The National Weather Service had extended the Flood Warning until 1:15 p.m. Monday, December 28. County Road culverts and roadways were showing signs of stress resulting from flooding conditions as were Farm to Market and state highways in some places. River flooding remains an issue. Both the North Sulphur and South Sulphur are above flood stage and will continue to rise through Tuesday. Flooded roadways caused the cancellation of several church events Sunday night and is a factor in the closing of the Meal-a-Day program in Sulphur Springs on Monday. Streets in Sulphur Springs also reflect the results of flooding.
The extension of the flood warning into Monday comes after an extension announced Sunday afternoon. With over four (4) inches of rainfall in the last 24 hours, at 4:04 p.m. Sunday afternoon, December 27, the National Weather Service extended the flash flood warning until 7:15 p.m. for Hopkins, Delta, and Lamar Counties. A Flash Flood Watch was in effect until 6 a.m. Monday prior to the extension.
Several dozen roads have been closed in the three counties including FM 69 South from Highway 11 in Como to south of Pickton. Precinct 2 Commissioner Mike O'Dell called KSST to report a rescue made utilizing the Precinct backhoe. A man and his auto had gone off the roadway. Other roads are under water as well. High water rescues are also reported in Lamar County.
Lightning has also been an issue with this series of storms Sunday. Lightning strikes are being reported by weather observers and observation equipment.  Thunderstorms will continue through the night Sunday and temperatures will fall into the mid-30's tonight.