The city and county Special Crimes Unit conducted a drug buy and bust operation Sunday in Hopkins County. Two people from Dallas were arrested.
Lt Harold McClure with the Special Crimes Unit said a confidential informant passed information to members of the unit that lead to the arrest and confiscation of half pound of marijuana and one half ounce of meth and cocaine along with perscription medication. Members of the special crimes unit, SSPD Chief Investigator Rusty Stillwagoner and other members of the SSPD, along with Lewis Tatum, Chief Criminal Investigatorfor the Sheriff's Department made the arrest. The pair made the offer to sell to undercover agents locally.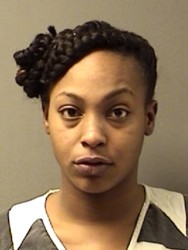 22-year old Chelsea Chanel Crisler of Dallas and 29-year old Dominique Donta Gage of Dallas were charged with two counts of manufacture and delivery of a controlled substance over four grams but under 200 grams, one count for cocaine and one count for methamphetamine and with delivery of marijuana more than one-fourth ounce but less than 5-pounds. JP B.J. Teer set total bond on each at $170,000.