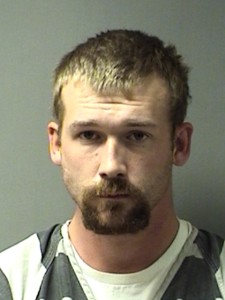 Cody Scott Shaw, 27, entered a plea of guilty to Capital Murder charges in the murder and robbery of 66-year old Gary Maynard. Shaw entered his plea Monday afternoon, December 28, 2015, during a pretrial hearing in 8th Judicial District Court. District Judge Eddie Northcutt sentenced Shaw to life in prison without parole. The sentence came as a part of an agreement for the guilty plea.
Shaw is one of two suspects arrested and charged with capital murder in connection with the November 29, 2014, slaying of 66-year old Gary Maynard. Maynard's wife found him murdered in his bed at their County Road 2301 home. An investigation pointed toward two suspects who worked for Maynard's tree service. Authorities arrested 31-year old Patrick Wayne McMahan at his Sulphur Springs' home and the then, 26-year old Shaw at his Emory home in Rains County. Hopkins County Sheriff's Chief Criminal Investigator Lewis Tatum said both men admitted they were involved in the murder. Items stolen from Maynard's home were also recovered.
Both Shaw and McMahan were indicted for capital murder December 8th of 2014.
Hopkins County Judge Robert Newsom had announced that an insurance policy would pay for attorneys for Shaw in the capital murder trial but would not pay for McMahan's trial attorneys. County Judge Newsom was unavailable Monday to comment on whether or not the policy would be required for any other expenses related to Shaw. Several years ago, fearful that a capital murder case featuring the death penalty could bankrupt the county, the Hopkins County Commissioners Court invested in a program that would help defray costs. Newsom said the policy is an interlocal agreement between Hopkins County and Lubbock County. He said the agreement cost the county just over $10,000 this year. The program pays for only one defendant but that will save the county up to $300,000. The program will provide two court-appointed attorneys, an investigator, and other needs that are expensive.
On November 21st of this year, a call from Hopkins County Jail brought EMS, Jail Administrators, and law enforcement officers to the cell of Shaw, who according to dispatch reports, had attempted suicide.