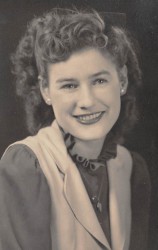 Melba Faye Brannon passed from this life and entered forever into the presence of her Lord and Savior Jesus Christ, on December 9, 2015.  She will be missed by many.
Faye was born February 18, 1925 to Charles Roy and Laura Ford.  They preceded her in death.  She married her sweetheart Aaron J. Brannon on January 11, 1946 and they lived a glorious 69 years together.  He survives.
She was also preceded in death by a brother, Charles M. Ford and wife Helen, and daughter-in-law Anita Brannon.
Survivors include daughter, Mary L. Hickson and husband Jimmy of Gun Barrel City, son, Charles A. Brannon and wife Dee of Sulphur Springs, a brother, Billy R. Ford and wife Ann of Cooper, five grandchildren, numerous great grandchildren, plus many nephews and nieces.
Faye was a loving servant and spread the Gospel of Jesus Christ to many, both by testimony and through her extensive tract program.  Her desire was for all to know Christ.
Services to be conducted Saturday, December 12, 2015 at West Oaks Funeral Home Chapel with visitation beginning at 1:00 p.m. followed by the remembrance service at 2:00 p.m.  All friends and relatives are invited to attend.  A private burial service for family only will be conducted afterwards at the Shooks Chapel Cemetery.
Arrangements are with West Oaks Funeral Home in Sulphur Springs, TX, with Brother Jeremy Druid Officiating.