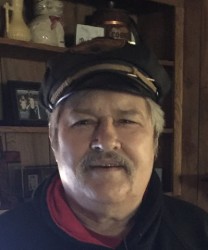 Funeral services for Mark Bolton, age 59 of Kilgore will be held at 11:00 a.m., Saturday, December 26, 2015 at First Baptist Church of Danville in Kilgore with Rev. Freeman Pierce officiating.  Visitation will be held one hour prior to the service at the church.  Graveside services will be held after the service in Sulphur Bluff at 3:00 p.m., at Sulphur Bluff Cemetery with Michael Bolton, Gary Bolton, John Ballard, Steven Hutson, Terry Ridge and Carl Grimes serving as pallbearers.
Mark passed away on Tuesday, December 22, 2015 at his residence.
Mark was born on December 16, 1956, the son of Maxie Lyons and Lois Erlene (Van'Buskirk) Bolton in Clarksville.
He was a self-employed welder and a member of First Baptist Church of Danville.
Survivors include his son, Matthew Bolton and wife, Lindsey of Lindale; daughters, Kristie Barnes of Tyler and Stephanie Livingston and husband, Wesley of Lindale; mother, Erlene Bolton of Clarksville; brother, Michael Bolton and wife, Nancy of Sulphur Bluff and Gary Bolton and wife, Linda of Cumby; six grandchildren, Andrew and Austin Eddington, Zachary and Cody Livingston, Billy Tate and Kayle Fuentes and eight great-grandchildren.
He was preceded in death by his father, Maxie and one grandson, Aaron Eddington.