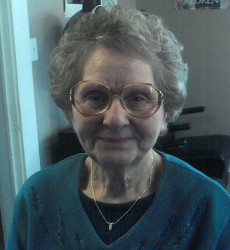 Juanita Rhodes Friddle was born on March 15, 1923, the fifth child of Emma Lillian Fox Rhodes and Ernest Murphy Rhodes, both descendants of early Hopkins County pioneering families.  She was born at home in the Union Community, on the "old McCloud Place, back around by the Sells' place" which was located somewhere just east of Arbala and west of what is now Highway 154 in southern Hopkins County, Texas.  She, along with her siblings, Valton Lee (Buddy), J.A. (Jake), Adell, Louise and Laverne, attended the Union Baptist Church and Union School.  They later transferred to Sulphur Springs High School.  Juanita was the last surviving member of the family.
Having lived a long, eventful, and fulfilled life, Juanita went home to heaven on December 19, 2015 to join her beloved husband, and all those who preceded her.  She passed away peacefully in her sleep following a brief illness.  She leaves behind countless loved ones, family and friends, and will be missed every day by all who knew her.
Funeral services will be held on Tuesday, December 22, 2015 at 2:00 p.m.at the Murray-Orwosky Funeral Home in Sulphur Springs, with formal visitation an hour earlier.  Pastor Robert Burns will deliver the eulogy, with special music by Charles Stubbs.  Pallbearers are Tony Stubbs, Shannon Stubbs, Brian Friddle, Ruston Frazier, Zach Stubbs, Jeff Hancock and Jeremy McClanahan.
Juanita will be laid to rest in the Union Cemetery, in the Union Community.  The family request memorials be made to the Union Cemetery Fund (Sheila Funderburk, 157 CR 1213, Sulphur Springs, TX  75482).
When Juanita was fifteen years old, Avon Friddle, from the neighboring Greenpond Community, proposed to her on a Sunday afternoon, during one of his weekly visits.  They were in her parents' living room listening to the "Edison", the family's new windup record player.  They were married a year later on November 29, 1939 in Sulphur Springs at the home of Baptist minister, Reverend Long on Radio Road in Sulphur Springs.
Juanita was a faithful wife, talented homemaker and devoted mother.  She loved gardening, cooking, sewing, visiting with friends and family get-togethers.  She was employed for twenty years by the H. D. Lee Plant in Sulphur Springs.  She and Avon resided for many years in their home in the Shirley Community, where they attended South Liberty Baptist Church.  Avon preceded her in death in 2004.
She later moved to Sulphur Springs, became a member of the First Baptist Church and acquired many close friendships.  For as long as her health permitted, she enjoyed doing volunteer work at the Hopkins County Memorial Hospital Gift Shop.
Juanita is survived by three daughters and one son, nine grandchildren, two step-grandchildren, ten great-grandchildren, one step great-grandchild and one great-great-grandchild and many nieces and nephews.  Children:  Anita and husband, Charles Stubbs of Canton, Texas; Jackie and husband, Doyle Fuller of Nashville, Tennessee; Barbara and husband, bob Langford of Campbell, Texas; Gary and wife, Trina of Claremore, Oklahoma.  Grandchildren:  Tony Stubbs (Debra), Terri Stubbs Loper (Roger), Shannon Stubbs (Amy), Adonia Fuller Hodgkins (Jimmy), Mark Fuller, Sandi Irby Hancock (Jeff), Brian Friddle (Whitney), Leslie Friddle and Jennifer Langford McClanahan (Jeremy), Chet Skimbo and Shanna Skimbo.  Great-Grandchildren:  Charlye Stubbs Miller (Clark), Ruston Frazier, Taylor Hodgkins, Macy Frazier, Zachary Stubbs, Peyton Stubbs, Elizabeth Friddle, Isabella Friddle, Samantha Friddle, Jacob McClanahan, Presli Hancock, Jolie McClanahan and Reagan Skimbo.  Great-Great-Grandchild:  Ashton Thomas Frazier.
She'll always be the sweetest breeze,
On the freshest day of spring.
When a red bird's at the window,
It's her that we'll hear sing.
When we find the largest rose
And touch its velvet to our face,
It's her caress we're feeling,
From another time and place.
Notice every golden leaf
That flutters in its flight,
Admire the soaring eagle
And watch the stars at night—
And, when snowflakes brush our cheeks,
And linger in our hair,
We'll know it's always her,
Around us,
Everywhere.