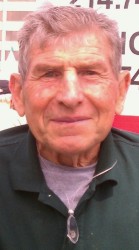 Private family services will be held for "Jim" James Michael Rynn, age 79 on Friday, December 18, 2015 with Father Jim Moore officiating.  Cremation to follow with his ashes to be returned to Ireland.
Jim passed away on Wednesday, December 16, 2015 at home on his beloved dairy farm.  Jim was born in Argentina on September 22, 1936, the son of Michael Joseph and Adelaide (Ismay) Rynn and moved back to Ireland when he was one years old.  He grew up in Ireland and went off to the school of mines in South Africa at the young age of eighteen.  After completing his schooling, he relocated to Zambia to work on the copper mines as a shift boss.  It is here that he met his wife, Renee and together they traveled the world and had six children.  He and Renee married on May 6, 1961 in Luanshya, Zambia.
They settled in Sulphur Springs in 1991 and enjoyed life as dairy farmers.  He lived every day with a smile on his face, twinkle in his eye, a strong character and kindness beyond description.
He is survived by his wife Renee; daughter, Noreen (Wayne) of Canada; sons, Michael (Claudia) of Canada, Jim (Catherine) of Canada, Richard (Gelliana) of California, Kevin (Dona) of Texas and Brent (Michelle) of Texas; sixteen grandchildren; four great-grandchildren; one sister and two brothers, all of whom are in Ireland Nora Gibney and children; Pat and Ann and children and Michael and Rosemary and children of Ireland.