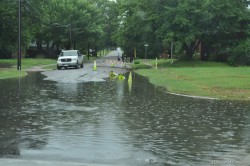 The National Weather Service has issued a Flash Flood watch for the eastern two-thirds of North Texas from 6 a.m. Saturday until 6 a.m. Monday. Hopkins, Delta, Rains, Van Zandt and surrounding counties are included in the watch.
Rainfall will begin across the watch area on Christmas night as an upper level storm system approaches from the west. Rainfall intensities will increase on Saturday with embedded thunderstorms a possibility though out the day.
Rainfall will continue through Sunday and into Sunday night before moving northeast of the region on Monday. Rainfall totals of 3-6 inches are possible with localized higher amounts especially across the northeastern-most area.
A flash flood watch means that conditions are favorable for heavy rain, which may lead to flash flooding. KSST will keep you apprised of any severe weather or flooding conditions.