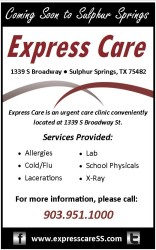 The public is invited to attend a ribbon cutting and open house for Express Care on Thursday, December 10th, 2015 from 5:00-6:00 p.m. located at 1339 South Broadway, Sulphur Springs. A Chamber of Commerce ribbon cutting will take place at 5:15 p.m.
Express Care is an urgent care clinic that will treat anything ranging from cold and flu to minor injuries, allergies to x-ray, and more. The clinic will offer in-house lab to help expedite diagnostic services and develop care plans that fit your schedule. Dr. Darrel Pierce, Colbie Cross, PA-C and Kalee Kirk, PA-C will rotate seeing patients on-site.
Express Care is scheduled to be open for business on December 15th. Hours of operation will be Monday-Saturday, 7:00 a.m.-7:00 p.m. and Sunday from 9:00 a.m.- 4:00 pm. For more information please call 903.951.1000.