First spotted by the National Weather Service in a rural area in Southeast Hopkins County, an EF-2 tornado caused damage as it moved through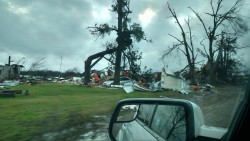 Franklin County, Saturday, December 12, 2015.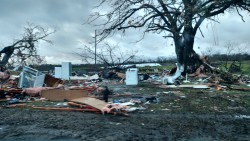 The storm took a path in the area of County Road SW 3190 and SW 3170 off FM 900 west of Purley. Four homes were destroyed with other homes and two dairy operations suffering major damages. Two people were treated and released from Trinity Mother Francis Winnsboro with minor injuries.
All four Franklin County fire departments with help from Saltillo VFD, North Hopkins VFD, Winnsboro FD, Franklin County Sheriff's officials and deputies, DPS, Titus Regional EMS, Franklin County commissioners,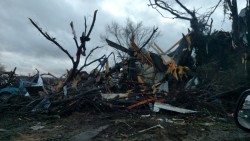 and American Red Cross volunteers worked throughout the night and into the next afternoon to check on residents, clear roadways, and search for other hazards. EOC was set up at Purley VFD for the night. Red Cross met with those affected on Sunday afternoon to help them seek assistance.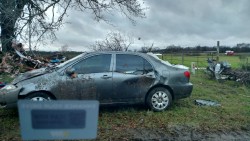 The car is also At the Van Dieden Dairy on CR 3190, a car was tossed about and damaged. It was one of several that were crushed by debris or damaged in the storm.
This tree was further down on 3190 across the road from the Gage home that was destroyed.  The Gages were treated and released from the hospital. Their home was destroyed.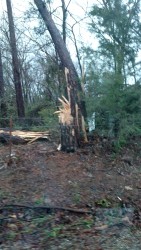 (Photos and story information Courtesy Kathy and Kellee Cannon)