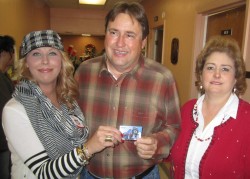 After collecting blankets for seniors in need of them recently, the Sulphur Springs Corvette Club visited the City of Sulphur Springs Senior Citizens Center and presented Senior Center Director Karon Weatherman with a check Friday Morning. The money was collected, along with new blankets and electric blankets during the club's three night Santa for Seniors event on Celebration Plaza.
Tim Gee with the Corvette Club presented $1,000 and 140 blankets for senior citizens to Weatherman. Gee was well pleased with the effort and stated that the event would be repeated next year.
Those who donated blankets were offered the opportunity to put their name in a jar for the drawing for a $50 Wal-Mart Gift Card donated by Bethany Home Health Care. The winner was Donna Luttrell.  Lynn Luttrell received the gift card on behalf of his wife. Presenting the gift card Crissy Hester Kuiper with Bethany Home Health Services and Weatherman.