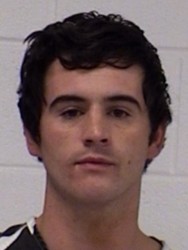 The Hopkins County Sheriff's Department has made an arrest in connection with a burglary where a thief made off with lots of items inside a rural county home including Christmas gifts and toys. Sheriff's Chief Criminal Investigator Lewis Tatum said William Ryan Miller, 25, of Como, has been arrested for the burglary.
Tatum said weapons and televisions along with Christmas gifts and toys were taken from the residence. The weapons and televisions have been recovered and the residents of the home will inventory the gifts and toys recovered Tuesday, December 15th to determine if all have been recovered. The items taken had been hidden in several locations according to Tatum.
A tip through social media regarding the sale of a television led to the arrests. The television sold was not from this burglary but from another that Lewis said should also be cleared today. Both burglaries may be tied to the indivdual arrested.
Justice of the Peace Brad Cummings set bond at $20,000 on Miller for the burglary charge.