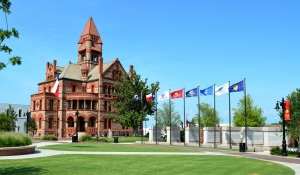 The Hopkins County Commissioners Court is expected to take up the issue of new open carry law signage this week.  Monday at 10 a.m. in a work session in their third floor meeting room, the court will consider sign placement at the County Courthouse and at county buildings.
During a regular meeting Tuesday at 9 a.m., the court is expected to approve the signs.  They will also officially approve decommissioning and demolition of the old county jail.  A lot of the jail has already been demolished.  In a work session after the regular meeting, the court is schedule to discuss the Civic Center, environmental issues, county phone service and the budget.
Later Tuesday during a 1:30 p.m. work session at the Sedalco Office Building at 201 East Houston, the court is scheduled to discuss new jail construction, county records destruction, radio towers for the county and the budget.