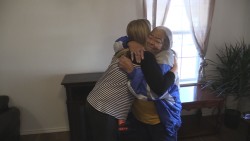 As part of the city of Sulphur Springs HOMES program, a dilapidated house at 212 West Ross was torn down and a new home and garage were constructed in its place. Wednesday morning, December 30, 2015, city Mayor Pro Tem Emily Glass presented keys to the new home to its' owner, Fannie Berry.
Ms. Berry described her new home as beautiful. The new structure replaces an older home that Ms. Berry described as falling down. She said "God knows when to do it and how to do it" as she expressed her thankfulness for the house.
Gordon Frazier, City Human Resources Director, said the HOMES program is currently out of funds. The city is applying for additional funds from the program. He stated that this is not the time for residents to apply for a new home but as soon as the State of Texas approves dispersing additional federal funds for the program applications will be accepted.
Frazier pointed out that approximately 12 houses have been built with the grant funds. Each of the houses replaced dilapidated houses that were in dire need of replacement. The program is for homeowners with very low income. He stated that when funds were available the public would be notified and applications would be received.