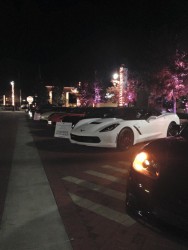 New blankets, new electric blankets, and cash donations keep members of the Sulphur Springs Corvette Club busy during the first two hours of Monday night's Santa for Seniors event on the city's Celebration Plaza. The Corvette Club is accepting blanket and cash donations to assist Hopkins County Senior Adults stay warm this winter. The event continues tonight and Wednesday from 6 p.m. until 8:30 p.m.
The Club's outgoing Vice President Tim Gee led in organizing the event. Gee pointed out that a number of senior adults in the county would need the blankets for warmth, especially when heating bills would normally increase during winter months. He said that the donated items and blankets purchased with donated money would be passed on to the Karon Weatherman and her workers at the Hopkins County Senior Citizens Center.
Among those giving Monday evening, a dad and his son stopped to allow the lad to make a donation. As they were driving, they heard of the event on KSST. The lad was the second donation made Monday and created a teaching moment in generosity, both for the elementary aged child and for those who observed.
The event continues tonight beginning at 6 p.m.