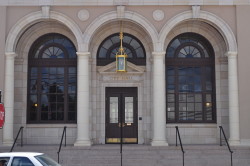 City Manager Marc Maxwell announced a $700,000 grant to rebuild sidewalks down Connally Street to Buford Park will complement a $200,000 grant already received to build sidewalks from Coleman Park to Buford Park in the City of Sulphur Springs. The grants are from the Texas Parks and Wildlife Department. His announcement came during the November meeting of the city council Tuesday night.
Also during the meeting, the council voted to approve a tax abatement for BEF Foods. The company sold its building to a real estate holding company and then signed a long term lease on the facility. In the multi-year lease agreement BEF will continue to pay all taxes. BEF will continue to receive the tax abatement but must also keep prior commitments to the city regarding employment numbers and other agreements.
Bill Watts will continue to represent the city on the Hopkins County Appraisal District Board of Directors. Watts began his service on the board while a member of the city council in 2005.