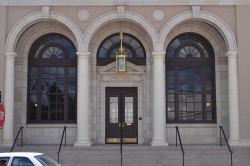 CITY OF SULPHUR SPRINGS, TEXAS REGULAR MEETING OF THE CITY COUNCIL, DECEMBER 1, 2015, 7:00 P.M.
AN EXECUTIVE SESSION WILL BE HELD AT 6:30 P.M. IN ACCORDANCE WITH TEXAS GOVERNMENT CODE 551.071, CONSULTATION WITH ATTORNEY – PENDING LITIGATION.
The regular meeting of the Sulphur Springs City Council will be held at 7:00 p.m. on Tuesday, December 1, 2015 in the Council Room at 201 North Davis Street.  The following items will be discussed:
Pledge of Allegiance to the United States Flag, Texas Flag, and invocation.
Presentations, proclamations, and announcements.
Manager's report will include status report of capital improvements, wastewater treatment plant operations, accidents and claims for the month, and a review of expenditures and revenues.
Discussion/action on Consent Agenda.
Discussion/action on public hearing for second and final reading of Ordinance No. 2676, an ordinance authorizing the exchange of certain real property between the Sulphur Springs Municipal Airport and the adjacent property owner(s).
Discussion/action on first reading of Ordinance No. 2677, a request to rezone property located at 200 West Shannon Road, being further described as Lots 33, 35, and 36 of Block 212, from Heavy Commercial to Light Commercial and 1317 West Avenue, being further described as Lot 34 of Block 212, from Professional office to Light Commercial.
Discussion/action on Resolution No. 1096 to seek designation from the State of Texas as a management agency for wastewater collection and treatment within the city limits of Sulphur Springs.
Discussion/action on Executive Session item Resolution No. 1097, a resolution authorizing the city mayor to execute said resolution and the city manager to execute the attorney contract for legal services with Scott & Ray, PLLC; and authorizing the city secretary to authenticate each signature.
Visitors/public forum.
10.       Adjourn.