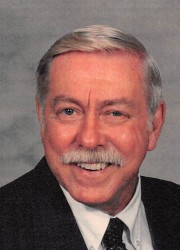 Memorial services for Shem Ray Jr., 82, of Sulphur Springs, will be held at 10 a.m. Monday Nov. 23, at St. James Catholic Church with Father Juan Carlos officiating. Honorary Pallbearers are Tony Abercrombie, Scott Burgin, David Perry, Laddie Filak, Joe Williamson, Joe Reed Scott, Ronnie Ballard and Joe Ames. Visitation will be from 5 p.m. to 7 p.m. Sunday, Nov. 22, at West Oaks Funeral Home. Mr. Ray died Wednesday, Nov. 18, 2015, at his residence.
Shem was born April 22, 1933, in Sulphur Springs, the son of Shem Ray Sr. and Lucy Margaret Kelty Ray. He married Norma Crawford on July 10, 1953, in Greenville. She survives. Mr. Ray was raised and worked in Sulphur Springs most of his life. His only time away was as a Korean War-era Army volunteer. He was a life member of the Saint James Catholic Church. He was an optician and general manager of Southern Optical Supply optical lab. He served on the City Council from 1968 to 1970.  He was a charter member and Hixom Fellow of the Sulphur Springs Kiwanis Club, and sponsored their first woman member. He was also a charter member and commander of the American Legion Post 66, and a member of the Hopkins County Military Coalition. He was a Scoutmaster of Troop 67 and a member of the Dutch Oven Society. Other survivors include his sons, Dr. Shem Ray III and his wife, Wanda, of Rockwall and James Noah Ray and his wife, Lisa, of Sulphur Springs; a daughter, Anna Renee Boucher and her husband, Joe, of Bedford; grandchildren Riki Kurbansade, Angela Warrick, Jamie Elizabeth Ray, Haley Ray, Shem Ray IV, Joanna Margaret Boucher, Jeff
Christopher Boucher, T.J. Freeman, Katie McCarley Stark; great-grandchildren Sage, Dakota, Holt, Layla McCarley, Phoenix Copobianco, Alec Stark and Tatum Warrick; brother, Francis Eugene Ray and sister, Billie Sue Ray.
He was preceded in death by his parents and a sister, Margaret Irene Sharp.
Memorial contributions may be made to the Saint James CYALL Youth Group, 297 Texas St., Sulphur Springs, Texas 75482.Arrangements are under the direction of West Oaks Funeral Home.