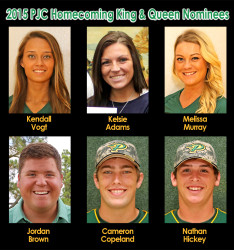 Final voting is underway for Paris Junior College Homecoming King and Queen, and among the candidates is Kelsie Adams, a nursing student from Sulphur Springs.
PJC Homecoming begins Thursday, and the crowning will take place at halftime of the men's basketball game on Saturday that begins at 6:00 p.m. in the Hunt Center.
Top nominees for Queen include Kelsie Adams, Melissa Murray, and Kendall Vogt; for King they are Jordan Brown, Cameron Copeland, and Nathan Hickey.
Homecoming events kick off with the Student Government Association Homecoming Parade at 4:00 p.m. on Thursday, followed by a pep rally at 5:15 p.m., both starting at the Hunt Center. On Friday, Nov. 13 the President's Reception will be held from 5:30 to 7:00 p.m. in the McLemore Student Center Ballroom.
Saturday, Nov. 14 at 10:00 a.m. the annual Alumni & Friends Association board meeting will take place in the McLemore Student Center Cafeteria. At 11:00 a.m. the doors open at the Love Civic Center for the Distinguished Alumni Luncheon that begins at 11:30 a.m.
The Athletic Hall of Fame induction will take place in the McLemore Student Center Ballroom at 2:30 p.m. The evening will conclude with the women's and men's basketball games starting at 4:00 and 6:00 p.m.
For information or tickets ($20) to the Distinguished Alumni Luncheon, call 903-782-0276 or email [email protected].