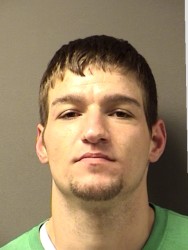 Jonathan Heath Meadows agreed to plead guilty to one count of possession of a controlled substance under one (1) gram, two (2) counts of evading arrest with a motor vehicle, and two (2) counts of manufacture and delivery of a controlled substance under four (4) grams, and to waive his right to appeal. In exchange, the District Attorney's office agreed to have any sentences handed out by a jury to run concurrent and not be stacked.  
Monday, November 9th, a Hopkins County Jury heard testimony in the penalty phase of the trial in 8th Judicial District Court.  They began deliberation around 4:15 p.m. The jury took approximately one hour before sentencing Meadow to the maximum sentence for each count. Two state jail terms for the possession of a controlled substance, 10 years each for evading arrest with a vehicle, and 20 years each for delivery of methamphetamine. Meadows will serve 20 years imprisonment in the Texas Department of Criminal Justice.
Following sentencing, Meadows was taken into custody and placed in Hopkins County jail to begin his sentence.