The 20th Anniverary of the Lights of Life Campaign began Tuesday in the lobby of Hopkins County Memorial Hospital. Gloria Mitchell, Donna Rudzik and Polly Swatsell the 2015-2016 Lights of Life Campaign Chairs officially kicked-off of the celebration campaign.

Previous Campaign Chairs were recognized as the 2015-2016 10th Anniversary Lights of Life Honorees.  Past chairperson who will be recognized are: Mickey Master Barnett (2006), Wanda Galyean (2007), Dr. Bill & Peggy Dietze (2009), Craig Roberts & Jennifer Roberts (2010), Tom & Pam Sellers (2011), Mickey & Barbara McKenzie (2012), Arvis & Sheila Tanton (2013), Ms. Mary Bonham, Rhonda Young & Kristin Potts (2014),  Brian & Leesa Toliver (2015).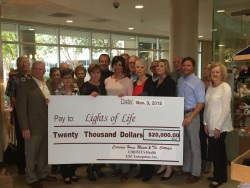 Also recognized were the three $20,000 Diamond Sponsors – Carriage House Manor & The Cottages – Arvis & Sheila Tanton, CHRISTUS Health System & GSC Emprises, Inc. – Mickey & Barbara McKenzie; two $10,000 STAR Sponsors – Alliance Bank and HCMH Volunteer Auxiliary; nine $5000 Sparkle Sponsors –  Access Physicians, Advanced Heart Care & Cath Lab, CD Ballard-Ballard Trucking, City National Bank, Guaranty Bank & Trust & Wealth Management, James Hodge Motor Company, Net Date, The Bookworm Box, and Wesley House & Wesley Oaks Memory Care; and twelve $3000 Glitter Sponsors- Bulkley & Associates, CompleteRX, City National Bank, Echo Publishing Company, Gene & Jeanette Watson,  M & F Western Products, Inc., Murray-Orwosky Funeral Home, Rock Creek Health & Rehab, SS Commercial Services, Sulphur Springs Dodge, Texas Heritage Bank and West Oaks Funeral Home.
The Lights of Life tree lighting campaign started in 1996.  Chaired by Chad and Rhonda Young,  the community was invited to help light the hospital Christmas tree by making a $25 donation in "memory or to honor" someone special.  For every $25 donation given a light was placed on the hospital Christmas tree.  Funds raised before 2005 were designated for specific programs and/or projects like, Hospice at Memorial, Think Child Safety, pediatrics and other specified programs offered by the hospital.  The campaign has grown over the past twenty years to include several min-events and the annual black time Lights of Life gala.
All funds raised through the campaign will help reach the aggressive goal of $250,000 set by the Foundation board of directors. A portion of the funds raised this year through the Lights of Life Campaign and Gala will be used to purchase six (6) LUCAS CPR devices and add additional funds to the Foundation "Leaving a Legacy" endowment fund.
The official tree lighting and reception will be held on Thursday, December 4 at 6p.m. in The Gardens at Memorial.
Donation checks should be made payable to the Health Care Foundation.   Contact Jackie Thornton, Foundation Director for more information, 903-438-4799.