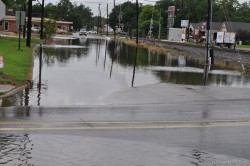 A Flood Warning for Urban Areas and Small Streams in Hopkins County in Delta County has been issued by the National Weather Service until 11:15am.
At 8:19am, flooding from ongoing rainfall was occurring in several locations. Four to six inches of rain have fallen over the past day and has led to flooding of mainly urban areas and small creeks and streams. Minor River flooding is also occurring along the South Sulphur River near Cooper.
Excessive Runoff from Heavy Rainfall will Cause Flooding of Small Creeks and Streams…highways and Underpasses in Urban Areas. Additionally…country Roads and Farmlands along the Banks Of Creeks…streams and Other Low Lying Areas are Subject to Flooding.