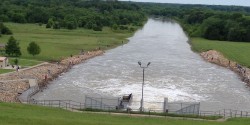 The National Weather Service has issued an extension to the flood warnings for northern Hopkins County as flooding along the South Sulphur River as well as North Sulphur River and at Cooper Lake continues with rain falling Sunday afternoon and early evening. The flood warning is extended through midnight Monday.
State highways, Farm to Market Roads, and county roads in Hopkins, Delta, Hunt and Franklin Counties have been affected. Some homes have been surrounded by high water at times. In some instances a few rural communities have been cut off by flooded roadways.
Driving through water over roadways in all counties is cautioned. Officials in Franklin County have said there is no way to know if culverts and/or bridges have been washed out by the high waters.
Cooper Lake emergency spillway is releasing uncontrollable amounts of water and flooding has occurred at the state park there according to reports.